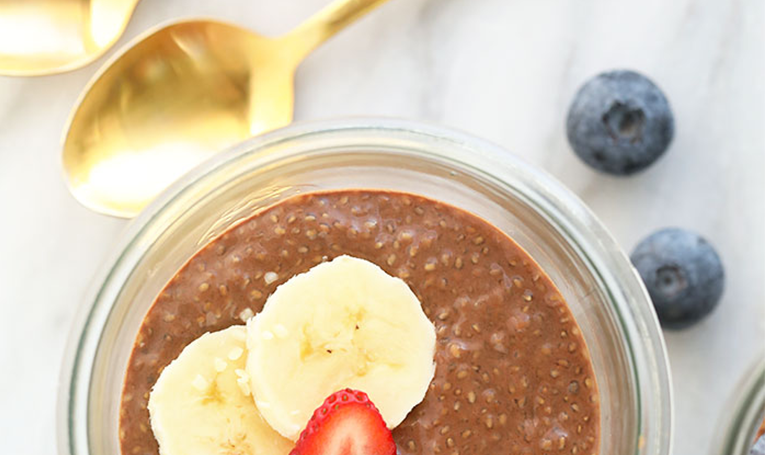 Protein Chia Pudding Recipe
Protein Chia Pudding Recipe
Delicious, healthy and easy! That's exactly how we like our recipes. Do yourself a favor and prep these protein chia pudding cups for breakfast or as the ultimate protein snack throughout the week! 
The ingredient list for this protein chia seed pudding is short:
- Chia Seeds
- Almond Milk
- Protein Powder
- Salt
- Fresh fruits for topping! (we used banana & strawberries)
The right consistency: 1 tablespoon chia seeds to 1 cup milk and half a tablespoon of protein powder. If you store your chia seed pudding in the refrigerator in an airtight container it will last for 5-7 days.
Tips & Tricks
Protein chia seed pudding is very easy to make, but there are a couple tips and tricks you can focus on to make it the thickest and most delicious chia seed pudding in the world.
Seeds
Did you know there are black and white chia seeds? You can use any type of chia seed you want!
Protein Powder 
We use Orangefit protein powder for this recipe. Orangefit is a plantbased protein powder, but feel free to use your favorite.
Milk
We are big almond milk fans, but feel free to use whatever milk you have on hand! Full fat coconut milk would make this chia seed pudding thicker and creamier! Your options are endless.. 
Thicken
Letting the chia seeds soak for 2 hours should thicken up the pudding enough for it to be thick and delicious! But for maximum results we recommend letting all the ingredients rest overnight for a SUPER thick chia seed pudding.