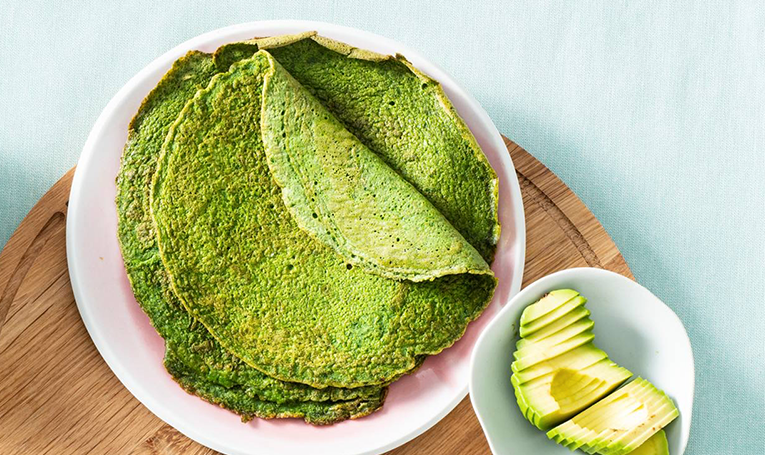 EGG-CITED Recipes
Treat yourself to these healthy recipes!
Spring has officially started! Which means we have longer days, (hopefully) more sunshine, a better mood and not to forget: Easter Weekend! Easter reminds us of delicious egg dishes. (not only chocolate easter eggs.. 😉) 
That's why we want to share 2 delicious egg dishes with you! Not only because they are tasty, but eggs are also very healthy and full of protein. 💛🥚
EGG-PROTEINS
Proteins are the building blocks of life and a single egg contains about 6.3 grams of high-quality protein. The main functions of proteins in the body are to build, strengthen and repair or replace things, such as tissue. Eggs provide us with very high-quality protein that contains all nine essential amino acids in the right amounts needed by the body for optimum growth and maintenance. 
1. EGG WRAP
Put the eggs, spinach, pepper and salt in a blender or food processor and blend into a green and smooth mixture. Heat 1 tsp of olive oil in a frying pan and fry some of the egg mixture over a medium heat for 3 min until the egg hardens. Turn over. Fry the other side for 1-2 min. Now your omelette is ready to eat or to be topped. You can top your egg with a small layer of cream cheese and then with avocado, salmon, tofu or chicken, choose whatever you like and enjoy! 💛🥚
Ingredients
- 3 medium-sized eggs
- 100 g spinach leaves
- 2 tbsp mild olive oil
2. EGG - ASPARAGUS - POTATO - FRITTATA
A simple, low-calorie spring main that uses the season's finest ingredients and is ready in just 20 minutes.
Heat the grill to high. Put the potatoes in a pan of cold salted water and bring to the boil. Once boiling, cook for 4-5 mins until nearly tender, then add the asparagus for a final 1 min. Drain. Meanwhile, heat the oil in an ovenproof frying pan and add the onion. Cook for about 8 mins until softened. Mix the eggs with half the cheese in a jug and season well. Pour over the onion in the pan, then scatter over the asparagus and potatoes. Top with the remaining cheese and put under the grill for 5 mins or until golden and cooked through. Cut into wedges and serve from the pan with salad.
Ingredients
- 200g new potatoes, quartered
- 100g asparagus tips
- 1 tbsp olive oil
- 1 onion, finely chopped
- 6 eggs, beaten
- 40g cheddar, grated
- Rocket or mixed leaves, to serve