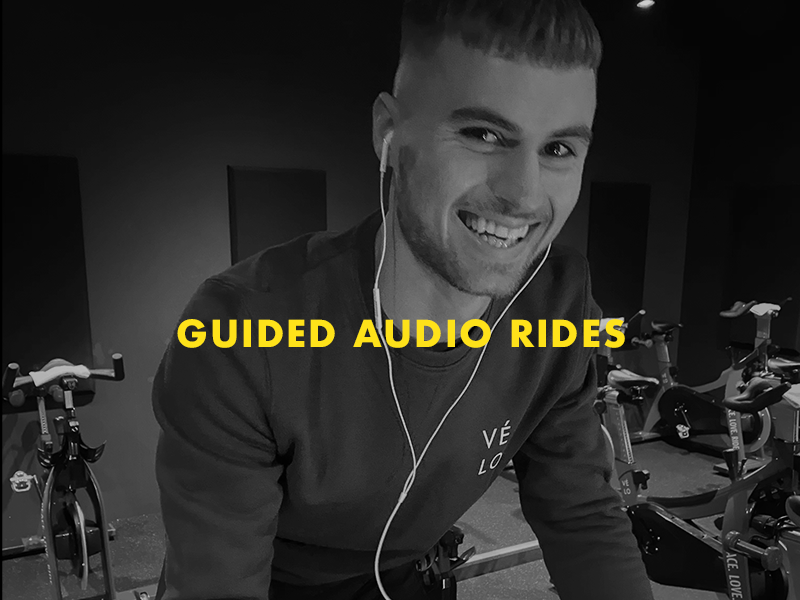 Guided Audio Rides @ de Pijp & Lovelee
All the information you need!
The day has finally come for us to get you back on that bike! We will open our doors on May 19th for individual Guided Audio Rides & Personal Training at our studio's de Pijp & Lovelee.
What is a Guided Audio Ride?
Our instructors have pre-recorded audio workouts for you to listen to on our bikes in the studio. The workouts feature the same awesome music, the same Vélo movements such as pyramids/climbs /sprints, and will leave you with that same, incredible feeling!
What do I need to bring to a Guided Audio Ride?
You need to bring your headphones/earphones and your phone to class. They are very important otherwise you won't be able to follow the Audio Ride.  
How does a Guided Audio Ride work?
1. As usual, you book your class on our website or partner Classpass.
2. You can enter the studio 10 minutes before class starts for your contactless check-in at our front desk. Here you get your shoes and our team will help you if you have any questions. 
3. You scan a QR code which is on a sheet in our studios. You can choose from 11 classes (V45/V-strength) by different instructors. 
4. You enter the box with your phone, earphones & water bottle. (towel service is on us!)
5. Now it's your time to shine. 45 minutes of Your time, Your pace
After class, our front desk team cleans your bike and weights to get it ready for the next rider.
Now that you know everything about how the Guided Audio Ride works, it's time to BOOK YOUR CLASS! We can't wait to welcome you back to the studio. 
PERSONAL TRAINING
According to the new regulations, we're also offering personal training sessions with one of our top instructors. This allows you to have the Vélo ride you love with extra care and attention! 🙏🏻 More information? Please send an e-mail to: pt@wearevelo.com