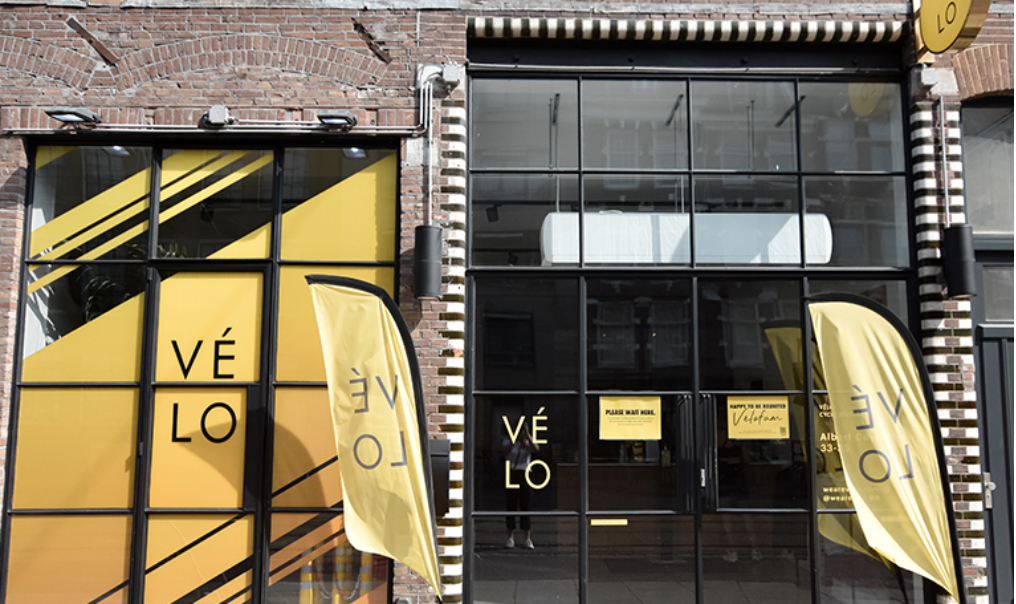 Vélo's Walk through De Pijp
Have you already walked our route through the Pijp?
We are still in lockdown and we really can't wait to get back on the bike with you soon! But in the meantime it's so important to keep your body moving. It might feel like a challenge in these times to motivate yourself for a workout, but think about all the benefits of moving your body on a daily basis: more energy, better sleep, healthy muscles & bones and not to forget a better mood! 
We are here to encourage you in a fun way with our Vélo Faves Walk through the Pijp, the amazing area in Amsterdam where our Vélo Studio is situated. It is a 50-minute walk along our favorite healthy & local stops for breakfast, coffee, snacks, juices and more! all open for pick-up
Take your best friend with you OR go by yourself with a Vélo Spotify Playlist for some tunes and GET. THAT. BODY. MOVING.
1. VÉLO STUDIOS 
This is where you start your walk, you know where to find us, right? We hope to welcome you back soon at the Albert Cuypstraat 35 💛
2. RAINBOWLS AMSTERDAM 
Rainbowls is Amsterdam's smoothie bowl hotspot! Plant-based, all natural and highly addictive. On the menu: Rainbowls, Açai bowls, Chia Pudding, Vegan treats and more. Frans Halsstraat 40 [Click here for Insta] https://www.instagram.com/rainbowls.amsterdam/?hl=nl
3. BLOEMHANDEL SIJMONS
When walking; why not pick up your own bouquet of fresh flowers? Bloemhandel Sijmons is your go-to place! A fresh bunch of flowers gives an instant feel good vibe, so treat yourself. Gerard Doustraat 158 [Click here for Insta] https://www.instagram.com/sijmonsbloemen158/?hl=nl
4. ALBERT CUYPMARKT
If it's not too busy, walk down the Albert Cuyp market! This market is full of local entrepreneurs; from vegetables, fruit to fresh & warm syrup waffles. 
5. SARPHATIPARK
The city park located in the Pijp. A piece of nature with trees, ponds and a dog walking area where you can find some silence. Walk around the park or sit on a bench and relax; you deserved it.
6. JUICEBROTHERS
Don't forget to visit our friends from Juicebrothers. They make 100% certified organic, cold pressed juices full of delicious fruits and vegetables in a range of surprising flavor combinations that will get your taste buds and the rest of your body singing! Van Woustraat 151 [Click here for Insta] https://www.instagram.com/juicebrothers/
7. SIR HUMMUS
In the mood for some Hummus? Pick up some freshly made at Sir Hummus! Grab a Pita bread on the side and dip it while walking! Van der Helstplein 2 [Click here for Insta](https://www.instagram.com/sirhummus/
8. COFFEE & COCONUTS
Coffee & Coconuts is a cafe and coffee roastery with its heart beating on island rhythms. Any time between 8am and 7pm your can enjoy young coconuts, brilliant breakfast and lunch feasts. Ceintuurbaan 282-284 [Click here for Insta]https://www.instagram.com/coffeecoconuts/
9. SCANDINAVIAN EMBASSY
The go-to place in Amsterdam where you can discover unusual Scandinavian dishes served alongside exquisite coffee and the best cinnamon buns in town
Sarphatipark 34 [Click here for Insta]https://www.instagram.com/scandinavianembassy/
10. SABABA 
End your Vélo Faves Walk at our dear friends from Sababa. Pick-up some delicious & healthy Falafel for tonight's dinner and your day is complete! Albert Cuypstraat 22-H [Click here for Insta]https://www.instagram.com/sababa.food/